KL Commercial Peanut Roasting Machine
This roasting machine is mainly used for the roasting, drying and moisture reducing of beans and nuts, such as peanuts, spiced peanuts, melon seeds, almonds, chestnuts, broad beans and so on.
The heating mode of the roasting machine are electric heating, coal heating and gas heating. It uses the rotary cage, heat conduction and heat radiation principle to control the heating effectively and guarantee the quality of roasting.
The roasting machine adopts automatic temperature control device: turn on the time controller and set the drying and roasting time. When the roasting time is up, the alarm device will open automatically.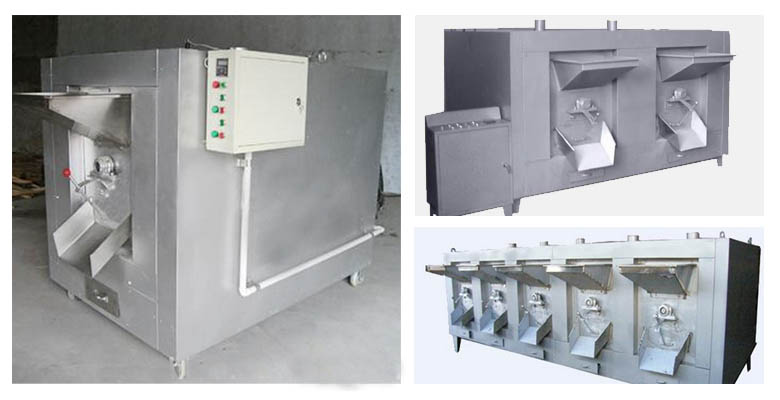 The roasting machine can be designed for using coal, electricity and gas as its fuel according to customer request.
Specification of roasting machine:
| | | | | |
| --- | --- | --- | --- | --- |
| Tyle | Transmission Power | Power | Capacity | Size |
| KL-05 | 0.75kw | 13.5kw/380v | 50kg/h | 2300*1000*1350mm |
| KL-1 | 1.1kw | 22.5kw/380v | 100kg/h | 2900*1400*1650mm |
| KL-2 | 2.2kw | 36-44kw/380v | 200kg/h | 2900*2100*1650mm |
| KL-3 | 3.3kw | 54-67kw/380v | 300-350kg/h | 4700*2900*1650mm |
| KL-5 | 5.5kw | 112.5kw/380v | 500-600kg/h | 4700*2900*1700mm |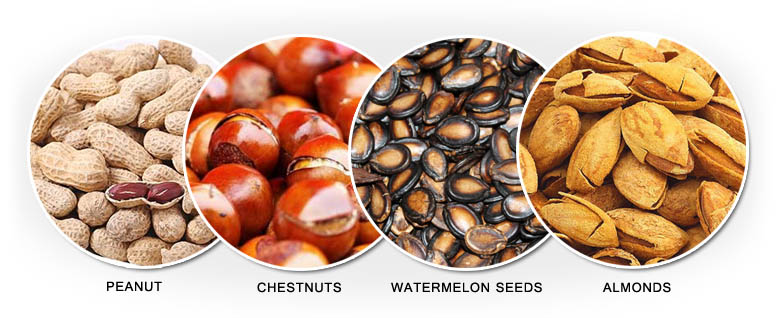 The roasting machine has the advantages of safety, energy saving, sanitation, fast heating, stable performance, low power consumption, low running cost, simple operation and maintenance, etc. The roasting quality reaches the food sanitation standard and international product standard.
How to install gas roasting machine correctly?
1. The roasting machine should be more than 200mm away from the wall, and 150mm away from the main gas source(hoses connecting the machine).
2. Wiring: single-phase power (220V), multi strand copper wire with diameter of Ф2.5 square mm, a miniature circuit breakers of 16A and tighten the screws of the circuit breaker when wiring to prevent electric leakage.
3. The gas pipeline: according to the requirements of the user units when connecting pipes (safety, convenient), connected with Ф25 seamless tube. Flexible connection: connect with a Ф25 gas hose, with special clamp to clamped and fastened. When the two methods above is connected, make a pressure test according to the standard, check whether there is leak to ensure the safe use of gas. Supply hoses should be inspected and replaced regularly. When you find that the hose is yellow, hard or damaged, you should replace it in time. The longest time for using a hose is no more than 2 years.