KF Small Peanut Roaster Machine
KF series of small roaster machines are simple in structure, saving power and time. It lowers the cost of processing and guarantees the stability of the performance as well. The peanut roaster for sale is suitable for processing all kinds of dried fruits and nuts, such as chestnuts, peanuts, melon seeds, pine nuts, hazelnuts, almonds, rapeseeds, coffee beans, sesame and so on. And suitable for fixed sales like in large shopping malls, supermarkets, chain stores, residential areas, streets and other densely populated areas. It is an ideal choice for self-employment ventures with the features of small investment and high profit.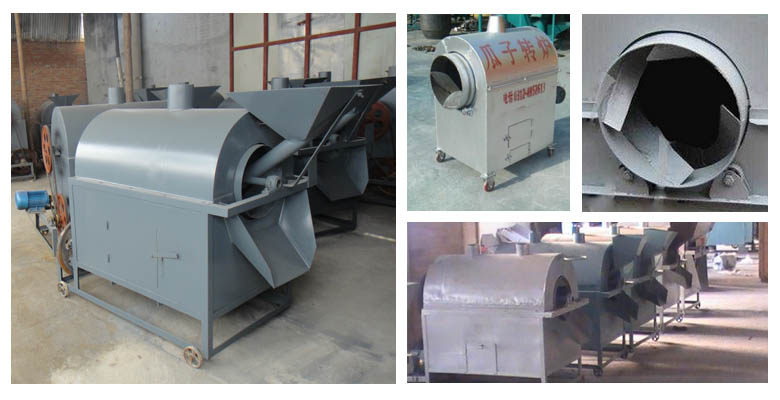 Specification of roaster machine:
| | | | | |
| --- | --- | --- | --- | --- |
| Model | Capacity | Frying rate | Dimension | Power |
| KF-25G | 60-80kg/h | ≥98% | 1000*500*900mm | 700W |
| KF-130G | 300-400kg/h | ≥98% | 1500*700*1500mm | 1,500W |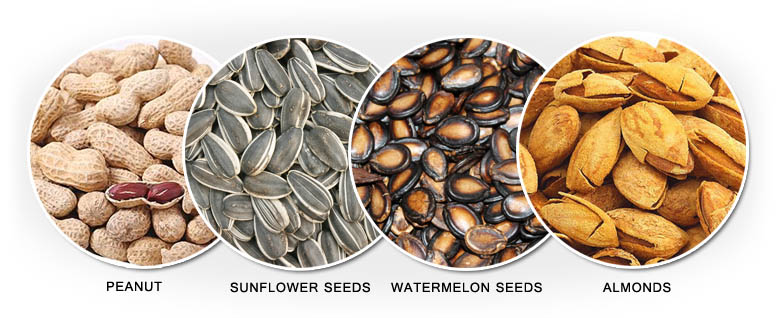 Characteristic of Small Size Peanut Roaster Machine
1. Geared with four wheels, the small roaster machine covers little space and easy to move.
2. The small roaster machine ensures a uniform heating of roasted nuts. There is also a heat preservation function with high thermal efficiency.
3. The peanuts are roasted inside of a semi enclosed drum so that the evaporation of water is less. Because of the relative sealing of temperature, higher temperature and humidity in the drum, the roasting effect is particularly good within short roasting time. The peanuts can be thoroughly and evenly cooked. It improves product yield ratio of peanut for 1.2-2%, and the profit and economic benefit have been increased as well.
4. Continuous rotation of the drum guarantees the thorough roasting of the peanuts, no longer requires human assistance for turning.
5. It is convenient to put the nuts in and out of the drum, the clockwise switch is for roasting, and the reversing switch is for automatical sieving and separation. With the advantages of quickly, easy operation, effortless, clean and healthy.
6. No pollution, little noise and energy-saving.
7. Widely used in small shops and nut processing plants.
Maintenance methods of peanut roaster machine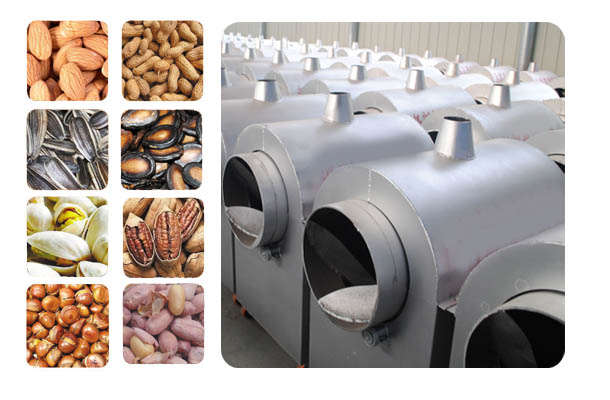 1. Add some engine oil in every oil filler of the roaster machine before working. Check whether the worm gear box is short of oil once a week, engine oil should be added when lacking of oil.
2. Turn off the air switch when the machine stops per shift. If you do not use the roaster for a long period, you need to clean out the raw materials in the drum and drop a little cooking oil in the feed inlet. Keep the machine rotating continuously for three minutes. Make sure there is oil in the drum to prevent it from rusting.
3. When heating up, the machine must be turned. Before you stop the machine, it also need to turn for 5 to 8 minutes.
Note: for coal heating, after the fire extinguished per shift, you can use wet coals to seal and ensure that there is no fire in the furnace before the second shift. The machine also needs to rotate for 5 to 8 minutes after the fire is extinguished or the furnace is sealed.
4. If the roaster machine is not used for a long time, when reuse, it need to idling for 10 to 15 minutes to keep the original debris cleared out, and heating when the oil in the drum being dried.
Peanut roaster machine for sale.
As a professional peanut roaster machine manufacture in China, we sincerely welcome customers all over the world to consult, negotiate and order! High quality products,good reputation and perfect service can attract many business partners.Meanwhile,we establish a perfect peanut marketing network and highly efficient logistic channels to ensure high high-quality &perfect after-services.