Single chain plate drying machine
KMEC customized single chain plate drying machine has a variety of applications, it can be used as the oven, roaster, baking machine, etc. Single chain plate drying machine uses air for heat transmission to remove the moisture when materials flow through multiple temperature zones on the plate. In the drying process, materials would not turn over or fall that ensures the mild treatment of materials. The single chain plate drying machine can be used for baking or drying leisure food, vegetables, peanut, peanut kernels, chestnut, walnut, almond, broad beans, coffee beans, melon seeds and other granular materials.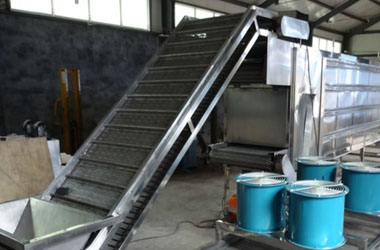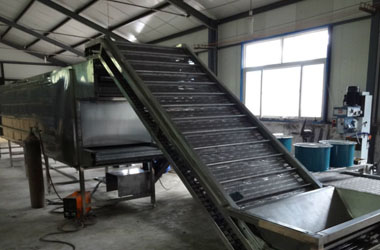 Effective heat treatment process is achieved by controlled airflow and temperature. Single chain plate drying machine adopts independent temperature zone to realize customized heat treatment process and achieve maximize heat/mass transfer efficiency. Materials would come into contact with the controlled airflow in the setting temperature when flowing through independent processing areas. Precise control of gas flow rate, temperature and humidity can improve or maintain the material properties and maintain good operating efficiency and reduce electric cost. Users can choose double wind chamber (connection) to provide balanced airflow from both sides of material bed and obtain extremely balanced moisture content.
Providing the best performance with customized design.
The dryer can be designed according to customer's requirements in order to meet the heat treatment requirements of specific materials to provide customers with the best performance. Customers can specify the feeding, discharging and other production line parameters to ensure that the equipment matches plant design.
Hygienic design to ensure clean and safe operation process.
Single chain plate drying machine has higher superiority in terms of cleaning and maintenance. The base and top plate of the dryer adopts inclined design for easy cleaning and with continuous welding to achieve optimal sanitation. The hygienic door (optional parts) has thermal insulation door plank of continuous welding to prevent moisture from entering the panel. The inside surface of dryer is smooth with certain inclination to make the materials flow out without safety or health hazard. Spacious doors and removable panels are convenient for thorough and completed cleaning during routine operation.
Flexible assembly to reduce the cost.
KMEC chain plate type drying machine of standard module design can be transported with mounted plates, so as to shorten the installation time and reduce the cost. Site fabricated structure can adapt to the most stringent conditions and reduce transportation costs.
--------------------------------------------------------------------------------------------------------------
KL - 2 peanut roasting machine
How to roast crisp peanut with peanut roaster
American client ordered DHL-05 peanut roasting machine from our company
Improve the drying quality of peanut roasting production line
Commercial peanut roasting machine