Wide application of automatic peanut roaster machine
The automatic peanut roaster machine is suitable for processing all kinds of nuts and seeds, raw materials of health care products, medical materials, condiments and spices, including coffee beans, chestnuts, peanuts,melon seeds, walnuts, sesame seeds, hazelnuts, pine nuts, pistachios, etc.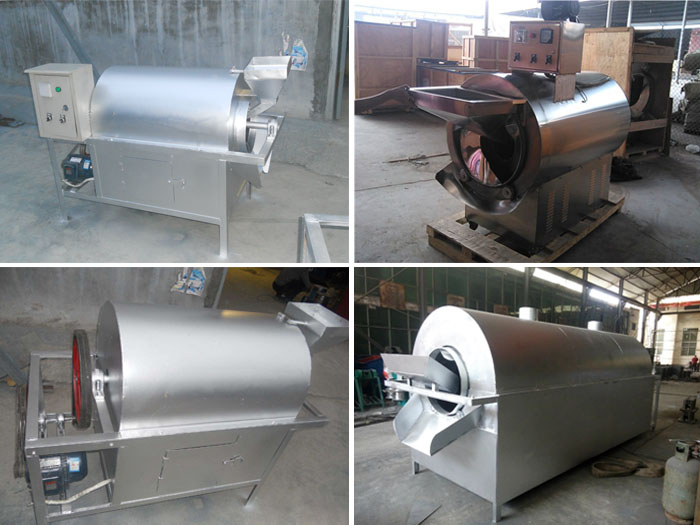 The peanut roasting machine is made of stainless steel with stable mechanical properties. It adopts closed belt transmission with rational layout, low power consumption and high working efficiency. Besides, the peanut roaster machine is easy to operate. Nuts and seeds can be roasted in the clockwise direction and discharged in opposite direction, which is quite convenient. The roasted nuts and seeds have nice appearance and good taste.

Due to the features of green, environmental protection, heat preservation and heat insulation, convenient and efficient, time and labor saving and high yield, automatic peanut roaster machine is currently the most ideal nut roasting equipment. Multi-function peanut roasting machine adopts suspension type electric heating equipment to heat the air in the drum that the nuts roasted would not be burnt. The outer annular insulation layer can protect the temperature from losing. It only needs 30 to 40 minutes for roasting 30kg of chestnuts and the power consumption is less than 2 degrees with 60% energy saving than other domestic nut roasting machine, thus reducing the processing cost.

The roasting temperature is controlled by automatic temperature controller and it can be adjusted to meet different roasting requirement of various nuts and seeds. The peanut roaster machine is suitable for processing all kinds of dried fruits and nuts, such as chestnuts, peanuts, melon seeds, pine seeds, hazelnuts, rapeseed, beans in various shopping malls, supermarkets, food stores, chain stores, individual enterprises, etc.
KMEC is a professional manufacturer specialized in the research, development and production of peanut roasting machine, peanut shelling machine, peanut butter production equipment and chain plate drying equipment, welcome to buy our products.

----------------------------------------------------------------------------------------------------------
Belt type sunflower seeds roasting machine
Single chain plate drying machine
Chain Plate Food Dryer Machine
Belt type food drying machine, pepper drying machine
Characteristics of microwave roasting machine