The use method and advantages of peanut roasting machine
Peanut roasting machine is suitable for processing all kinds of roasted seeds and nuts, raw materials of health care products and traditional Chinese medicinal materials, condiments, spices and all kinds of dried fruits, including coffee beans, chestnuts, peanuts, melon seeds, walnuts, sesame seeds, beans, hazelnuts, pine nuts, pistachios, etc. The peanut roaster machine produced by our company has the features of stable mechanical performance, rational layout, low power consumption, high efficiency and easy operation. The roasted seeds and nuts have nice look and good taste. It is a good helper for starting a business. The following points should be noticed when using the peanut roasting machine: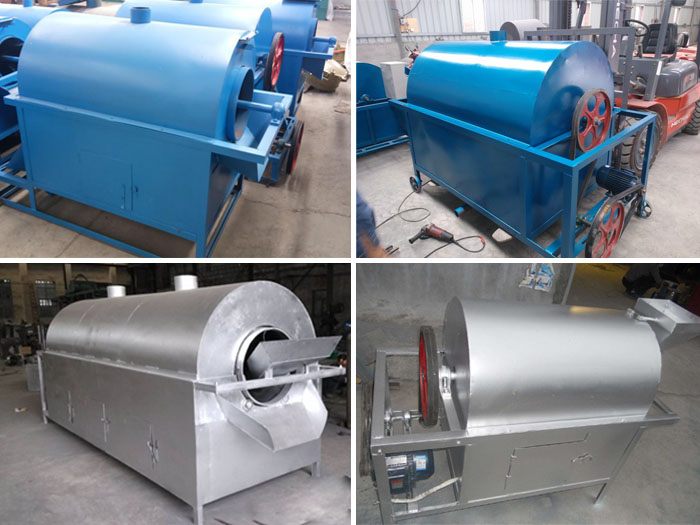 1. Place the peanut roasting machine in a stable place.
2. Check whether the gas control valve of the machine is closed.
3. The product is connected to the dc power supply of 12V.
4. Connect the gas bottle trachea firmly to the gas joint of the peanut roaster machine. Make sure that there is no gas leakage in the joint, then open the gas regulator, and the ignite the stove pipe by the igniter. Then, the gas valve can be adjusted slowly until the flame is suitable.
5. When the gas is burning, the switch can be turned to the clockwise and reverse switch to roast and discharge the material.
6. When the drum is turning, whether it is turning clockwise or reversing, switch to the stop position for 3-5 seconds before changing the direction of turning.

Advantages of peanut roasting machine:
1. The drum is heated evenly with the function of heat preservation. The heat efficiency is higher. Nuts and seeds can be heated evenly under the rotation of 360 degrees.
2. The water evaporation of nuts and seeds is less in semi-closed roasting drum. Small amount of sweet water can be added in the process of roasting. The temperature and humidity are higher when roasting nuts and seeds that the roasting time is greatly shortened and the production rate can be improved by 1.2- 2%, which increases the profits and improves the economic benefit.
3. Constantly rotating drum ensures the roasting quality of nuts and seeds. The nuts during roasting would not stick the drum of the machine and have bright color and strong aroma after roasting.
4. It is convenient to discharge the nuts after roasting just by pressing the reverse switch that the nuts and seeds can be discharged automatically, which is quick, effort saving, clean and hygienic.
KMEC is a professional manufacturer specialized in the research, development and production of peanut roasting machine, peanut shelling machine, peanut butter production equipment and chain plate drying equipment, welcome to buy our products.

----------------------------------------------------------------------------------------------------------
Belt type sunflower seeds roasting machine
Single chain plate drying machine
Chain Plate Food Dryer Machine
Belt type food drying machine, pepper drying machine
Characteristics of microwave roasting machine