Simple preparation before using the peanut roaster
Peanut roaster is made of stainless steel and takes electricity, gas (natural gas or liquefied petroleum gas), coal as heat source. The salt powder can be added as the drying medium to make the heat closely effect on the object to be baked.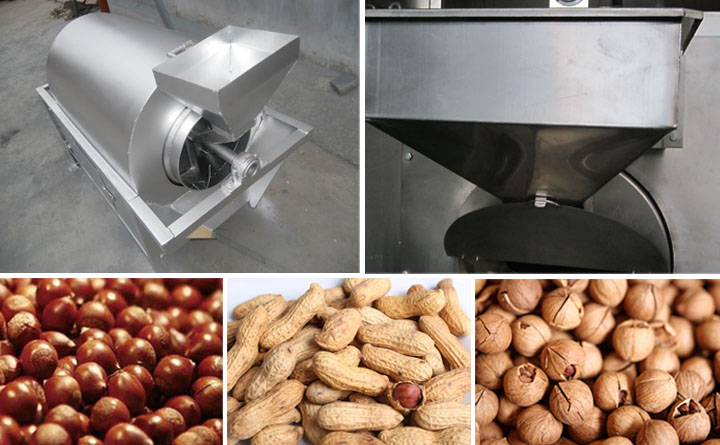 The peanut roaster has the characteristics of reasonable structure, high efficiency and energy saving, beautiful shape and reasonable structure. The electric peanut roaster is healthy with no pollution, adjustable temperature, high thermal efficiency and energy saving. The baked food has low fat, low cholesterol and more healthy.

Now, more and more people need to use the peanut roaster in the market. Before starting the peanut roaster, what inspection of peanut roaster machine should be made?
1. Before starting peanut roaster, check whether the transmission part is normal, then ignite to make the temperature rise.
2. The dust-collecting chamber at the bottom of the peanut roaster should be cleared in time to prevent the pollution of ash smoke on the roasted objects.

There are many small steps in the process of heating of peanut roasting machine to be concerned particularly:
(1) Pay attention to the temperature rise situation of peanut roaster, the heating speed should conform to the curve requirements of the drying machine;
(2) Observe changes the masonry parts;
(3) Check the steel structure;
(4) Maintain appropriate furnace pressure.
(5) Make record of the oven;
(6) Check the water-cooling structure parts.
-------------------------------------------------------------------------------------------------------
Multilayer food drying machine
The advantages of microwave roasting machine
Canadian customer ordered sweet potato roasting machine
Multi-layer chain plate drying machine
Single chain plate drying machine
The roasting principle of peanut roasting machine