The operating instructions of peanut roasting machine
Peanut roasting machine is mainly used to roast granular materials, such as peanuts, hazelnuts, almonds, beans, coffee bean, sunflower seed, chestnut, cashew nuts and so on. It has the features of reasonable structure, high efficiency and saving energy. The following are some operating instructions of peanut roasting machine.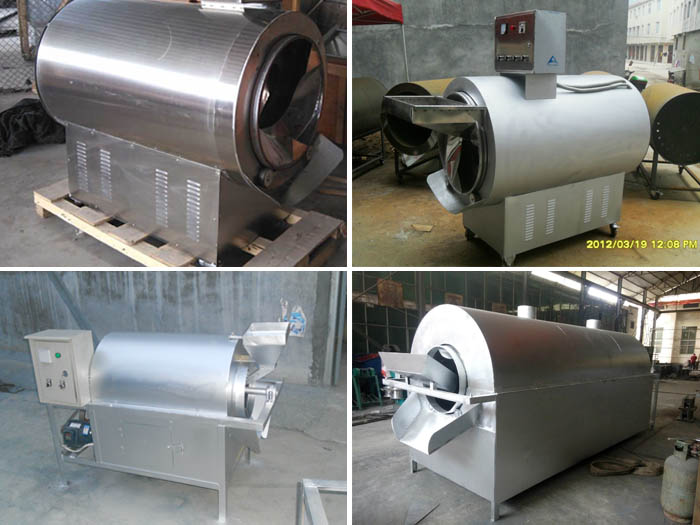 1. Check the air inlet at the bottom of the equipment and the air outlet at the top of the machine when using the peanut roasting machine to ensure normal heat dissipation and ventilation.
2. Adjust the heating time according to the products that need to be processed. Pay attention to the preheating time of the first batch.
3. When the drum reaches the set temperature, put the material into the drum by the feeding hopper.
4. The bearing capacity of the feeding hopper shall not exceed 10kg. Overload would lead to hopper deformation.
5. Do not touch the heating area with hands or other parts of the body.
6. Do not put hands or other object into the drum during the operation of the equipment.
7. After roasting, press the "stop" button. When the drum stops turning, press the "discharge" button.
8. After processing, turn the timing knob to "OFF" and stop heating. And turn off the main power.
9. The power supply must be cut off before cleaning.
10. Slight dirt can be wiped with soft dry cloth. Oil and serious dirt can be cleaned with neutral detergent or detergent, wipe it with a soft dry cloth.
11. It is forbidden to wipe the machine body of peanut roaster with gasoline, toluene or other solvents.
12. It is strictly forbidden to wash the machine body directly with water, so as to avoid circuit failure.
13. Always keep the whole peanut roasting machine clean so that insects such as cockroaches will not enter the equipment and cause the machine failure. When not in use, cut off the main power supply.
KMEC is a professional manufacturer specialized in the research, development and production of peanut roasting machine, peanut shelling machine, peanut butter production equipment and chain plate drying equipment, welcome to buy our products.

----------------------------------------------------------------------------------------------------------
Belt type sunflower seeds roasting machine
Single chain plate drying machine
Chain Plate Food Dryer Machine
Belt type food drying machine, pepper drying machine
Characteristics of microwave roasting machine