Multilayer food drying machine
Materials are evenly spread on the mesh belt of the multilayer food drying machine and move inside the dryer by dragging of the transmission device. The hot air flows circularly in the drying machine and makes heat exchange when flowing through the material layer and takes away the steam to achieve the purpose of drying. The drying machine is composed of several hot air independent cycle units to dry the material in different period of drying temperature with automatic dehumidification system and the temperature can be adjusted automatically. The machine has multilayered structure, which can be divided into three, five and seven layers. The hot air is generated by the heat exchanger and the heat source can be electric heating, steam or conducting oil. The food drying machine has the features of uniform drying, high efficiency, labor saving and lower labor intensity, suitable for batch production of dried beans, spices, dehydrated vegetables, etc.
Product features:
We realized that to dry a variety of materials with different properties in one design method is not reasonable in the process of actual use. Therefore, RC series equipment emphasize its specificity on the basis of the approved products, its basic types are the special dehydrated vegetables machine, aquatic products drying machine, raisins drying machine, snack food packaging drying machine and so on. Customers can consult with our designers in the equipment selection according to the characteristics of materials and the special requirements of material drying to determine the air volume, temperature, relative humidity, speed and other technical parameters to ensure the applicability and reliability of equipment to achieve the best performance.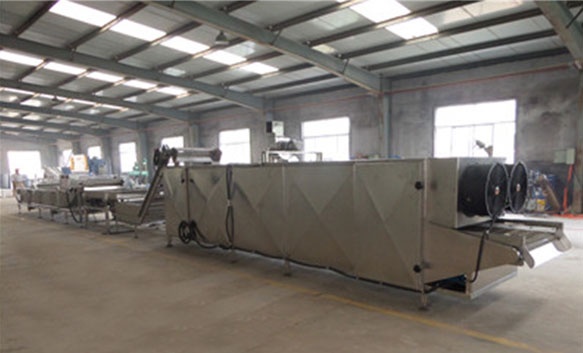 Product usage:
Multilayer Belt type food drying machine is the commonly used continuous drying equipment, which can be widely used in aquatic products, agricultural and sideline products, food packaging, medicine and other industries, especially block, strip and granular materials with good air permeability. The filter cake and paste materials can be processed by the pellet machine or extruder before drying.
---------------------------------------------------------------------------------------------------------
The advantages of microwave roasting machine
How to roast crisp peanut with peanut roaster
American client ordered peanut roasting machine from our company
Commercial peanut roasting machine
Features of peanut roasting production line