How to make spiced peanut kernels with peanut roasting machine
Peanut roasting machine is the equipment for roasting and drying peanuts (kernels), melon seeds and other granular materials. Peanut roasting machine produced by our company has the features of  reasonable design, simple operation, energy saving and has won the majority of users' trust and praise.  The following is a brief introduction about how to make spiced peanut kernels with peanut roasting machine: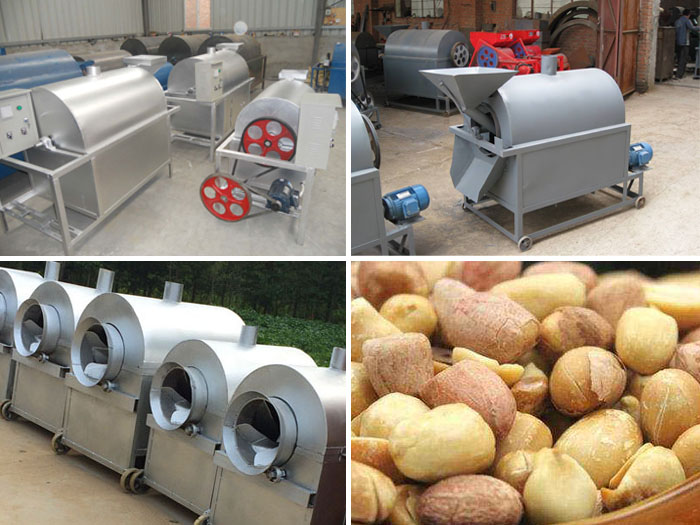 First, remove the impurities of peanut kernels and make spiced water with various condiments and pour into the peanut kernels, then take out and drain. At the same time, heat the furnace up. When the  temperature rises to a specific range, pour peanut kernels into the peanut roaster for drying (had better use particle salt as medium). Check the drying degree of peanut kernels after about 30 minutes. After roasting, stop the drum and then press the reverse button for discharging. It is important to note that the drum can't stop running after baking until the temperature down to 50 degrees so as to avoid deformation.
When using the peanut roasting machine for the first time, take out a small amount of materials from the feeding mouth at a periodic interval to check the baking degree (note: do not take peanuts directly with the hand) and record the baking time at the same time in order to master the material baking time for roasting in the next time. After the baked material reaches the bake requirement, stop heating and then stop the rotation of inner cage, press the reverse button and remove the material baffle for discharging.
Note: after discharging all the material in the peanut roaster machine, stop the rotation of inner cage until the furnace temperature drops to about 50 degrees if not continue to roast so as to avoid cage deformation caused by the high temperature. There is a drawer in the bottom of the roasting machine. The residues would fall into it in the baking process that it should be cleaned regularly.

KMEC has years of production experience in manufacturing of all kinds of peanut roasting machine. Our products have been exported to Europe, America, southeast Asia and other countries and regions, favored by large number of users.
-------------------------------------------------------------------------------------------------------
Multilayer food drying machine
The advantages of microwave roasting machine
Canadian customer ordered sweet potato roasting machine
Multi-layer chain plate drying machine
Single chain plate drying machine
How to prolong the service life of peanut roasting machine