Maintenance of peanut roasting machine
When in use of peanut roasting machine, it is quite important to make certain maintenance of peanut roasting machine. Below are some suggestions for the maintenance of peanut roasting machine: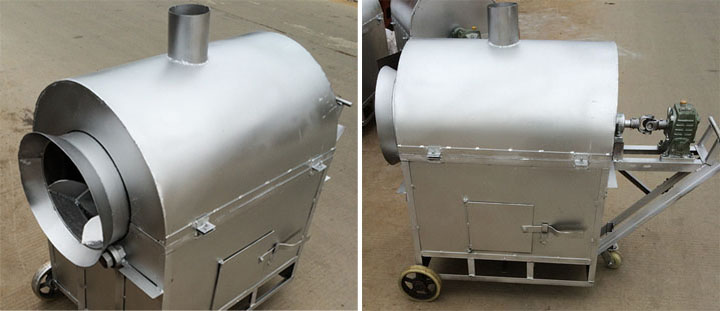 1. Since there is a certain difference of the regional environmental humidity, so it is essential to prevent electric parts from being affected with damp. When the electric parts are affected with damp, the whole electrical parts would become the electrical conductor and it is easy to lead to the burning of electrical parts. Thus, when in use of peanut roasting machine, the operator should turn on the heat removal equipment and exhaust system for 10 to 20 minutes to dry the moisture on the electric parts.

2. Generally, there are much dust in the workshop of peanut roasting machine. After being used for a long time in the workshop, the surface of the electrical parts would easily adsorb dust. While the electrical parts are heating element when powering on, if there are much dust on it, it would affect the cooling effect of electric parts and lead to electrical burn for poor heat dissipation. Thus, it is recommended that dust removal work of the equipment should be made on a regular basis.

As a food machinery manufacturer, peanut roasting machine provided by our company is in the international leading level and favored by users with its excellent quality, distinguished technology and  perfect service system. Below are the features of peanut roasting machine:
1. Totally enclosed and overall structure of high temperature resistant insulation material with good heat preservation performance and short heating time;
2. All stainless steel structure, never rust, strong and durable;
3. 350℃overheat automatic reset circuit breaker protection;
4. Built-in automatic control temperature probe, efficient baking heat pipes with fast heating up and long working life;
5. The temperature of surface fire and bottom can be controlled independently to create the best baking temperature environment.

Our company provide excellent nut roasting machine for users all around the world. Welcome customers to come to the choose and purchase our products. We believe that we will be your best choice.

----------------------------------------------------------------------------------------------------------
Belt type sunflower seeds roasting machine
Single chain plate drying machine
Chain Plate Food Dryer Machine
Belt type food drying machine, pepper drying machine
Characteristics of microwave roasting machine