Maintenance and operation of peanut roasting machine
Daily maintenance of peanut roasting machine is an important part in the operation, which can keep the machine in good working state and ensure high working efficiency of peanut roaster machine. The following are some points that need to be noticed when using the peanut roasting machine.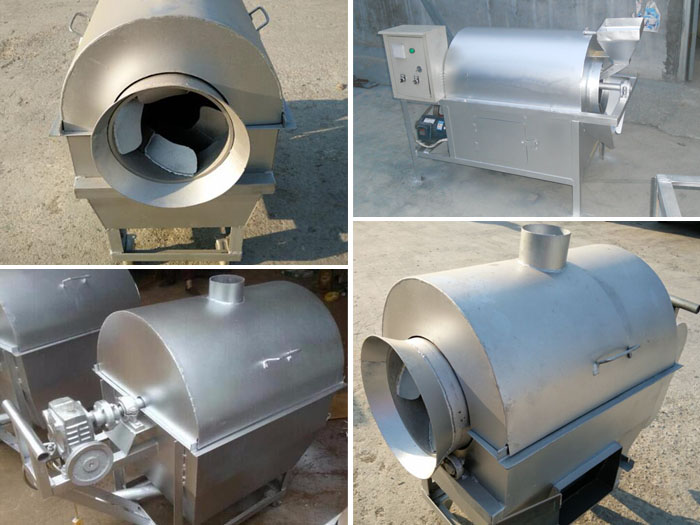 1. Check the air inlet channel at the bottom of the equipment and the top air outlet when using the peanut roasting machine, so as to avoid influencing heat dissipation and ventilation.
2. Adjust the heating temperature and time according to the products that need to roasted. Note that the preheating time of the drum should be considered when roasting for the first time.
3. When the drum reaches the set temperature, put the raw material into the drum from the feed hopper.
4. Note that the bearing capacity of the hopper shall not exceed 10kg. Overload would result in hopper distortion.
5. It is forbidden to dry roast the drum for a long time.
6. It is forbidden to contact the heating area with hands or other parts of the body.
7. During the operation of the peanut roaster machine, do not put hands or other objects into the drum.
8. When cooking is done, press the " stop" button and when the drum stops, then press the "discharge switch".
9. After processing, turn the timer knob to "OFF" and stop heating. And shut off the total power supply.
10. The power supply must be cut off before cleaning.
11. Slight dirt can be wiped with soft dry cloth. Greasy dirt or severe dirt can be cleaned with neutral washing or cleaning powder, then wipe with soft dry cloth.
12. No gasoline, toluene and other solvents to wipe the machine body.
13. It is strictly forbidden to wash the machine body directly with water so as to avoid the inflow of water and the machine fault.
14. Always maintain the cleaning of the whole peanut roasting machine so as to avoid bugs such as cockroaches from entering the equipment, causing malfunction of the machine. Cut off the total power when not in use.

KMEC has years of production experience in manufacturing of all kinds of peanut roasting machine. Our products have been exported to Europe, America, southeast Asia and other countries and regions, favored by large number of users.
-------------------------------------------------------------------------------------------------------
Multilayer food drying machine
The advantages of microwave roasting machine
Canadian customer ordered sweet potato roasting machine
Multi-layer chain plate drying machine
Single chain plate drying machine
How to prolong the service life of peanut roasting machine