Peanut roasting machine has excellent performance features
With the increasing demand for peanuts and the development of the mechanical automation industry, the professional equipment, peanut roasting machine, is widely used in the production of peanut processing.
Peanut roasting machine can not only used in peanut processing, it can also be used for baking or drying peanut kernels, chestnut, walnut, almond, broad beans, coffee beans, melon seeds and other granular materials. It adopts rotary drum, heat conduction and thermal radiation principle. Generally, coal is used as fuel during baking.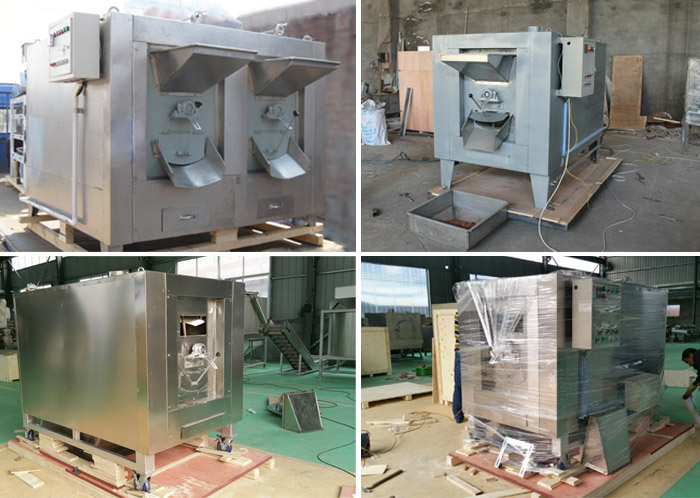 The peanut roaster has a wide range of application. It is the essential product of hotel, factory, enterprise canteen and beauty salon. Here are some features of the peanut roasting machine:
The peanut roasting machine is safe and reliable, large in capacity, small in size and widely used with national health standards, and the operation is stable and reliable. Peanut roaster has beautiful appearance and easy to clean.

The machine has automatic temperature control and timing device. The temperature can be adjusted freely between 0 and 300 degrees according to the material, and it is very convenient to use. Natural gas, liquefied gas and coal can be used as fuel for roasting and hot air is used as drying medium to make the heat effect on the baking objects. In the baking process, the roasted material flows into the inner barrel through a deflector from the outer barrel, and then flows back into the outer barrel continuously that the material can be heated evenly, effectively ensuring the quality of baking.

1. The peanut roasting machine maximizes the effective volume with microcomputer temperature controller. The control of temperature is accurate and reliable.
2. Steel, bulletproof double glass door for observation of material in the machine.
3. One piece silicone rubber door sealing ring ensures high vacuum in the peanut roasting machine.
4. The working chamber is made of stainless steel plate (or drawing board) that ensures the durability of the products.
5. Storage, heating, test and drying are performed in the absence of oxygen or inert gas, so it would not be oxidized.
6. The shortest heating time, shorter than the traditional vacuum peanut oven.

KMEC has years of production experience in manufacturing of all kinds of peanut roasting machine. Our products have been exported to Europe, America, southeast Asia and other countries and regions, favored by large number of users.
-------------------------------------------------------------------------------------------------------
Multilayer food drying machine
The advantages of microwave roasting machine
Canadian customer ordered sweet potato roasting machine
Multi-layer chain plate drying machine
Single chain plate drying machine
How to prolong the service life of peanut roasting machine