What is the difference between electromagnetic and electric heating peanut roasting machine?
Electromagnetic peanut roasting machine is a kind of roasting equipment with electric magnetic induction heating and intelligent automatic control. It's working principle is similar to the household induction cooker. Compared with the conventional electric heating (electric stove wire heating, tubular electric heating, etc.), the electromagnetic peanut roasting machine has the following five characteristics: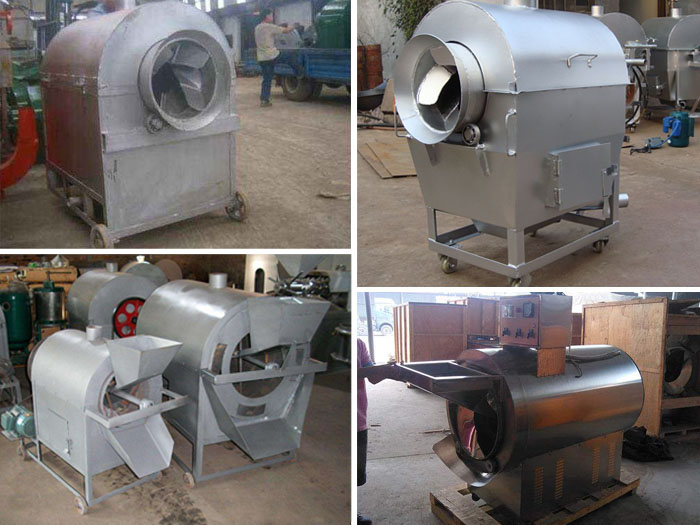 1. Efficient and energy saving: the electromagnetic peanut roasting machine adopts the stainless steel body, and the external is compounded with heat-resistant material, which can significantly reduce the thermal radiation of the working environment and the thermal insulation effect is pretty good. The drum body itself is a heating source, which does not require any thermal conduction mode with fast heating and high thermal efficiency, which can reach more than 95% (the thermal efficiency of the traditional electric heating roasting machine is around 60%). Short roasting time also reduces the friction between nuts and seeds and protect its appearance, colour and lustre, thus it saves electricity, time and energy.

2. Green and environmental protection: there is no fire and safety factor of the electromagnetic peanut roasting machine is higher, so there is no fire phenomenon. Zero emission, do not produce any harmful gas, avoid polluting the air, roasted products and working environment, clean, sanitation and environmental protection. It has been awarded "environmental protection and energy saving product" by the relevant departments of the state.

3. Intelligent control: electromagnetic peanut roaster machine is intelligent automatic control, and operators can set according to actual needs. The fault can be automatically diagnosed and displayed automatically. Intelligent automatic control temperature has high precision of plus or minus 2 %. The products are uniform after roasting and the quality of roasting would not be affected by changing shifts and operators.

4. Easy to operate: the machine can be operated by a switch, simple and convenient. Low in operation skill, one person can operate multiple machines with high production efficiency.

5. Reasonable and durable: electromagnetic peanut roasting machine is designed with the separation of mechanical and electrical structure. Mechanical rotation and vibration would lead to no wear or any impact on the machine, thus greatly reduces the machine fault and increases the service life of the machine (according to industry statistics, the traditional electric heat pipe is the wearing part with the average life expectancy of six months or so).

At present, the electromagnetic peanut roasting machine is the most energy efficient, environmentally friendly and advanced equipment of nuts and seeds roasting and popular with the roasting market.
----------------------------------------------------------------------------------------------------------
Belt type sunflower seeds roasting machine
Single chain plate drying machine
Chain Plate Food Dryer Machine
Belt type food drying machine, pepper drying machine
Characteristics of microwave roasting machine