The development of peanut roasting machine
In recent years, the industry of peanut roasting machine has grown at an average annual rate of 10% to 15%, and the total sales volume is increasing at 10% or so. In terms of market capacity, the market  demands of peanut roasting machine can reach 230 billion yuan. At present, the products of peanut roasting machine have been widely used in our daily life. Peanut roasting machine has many advantages, including energy saving, convenient, fast heating, low power consumption, stable performance, low operation cost, long service life, easy operation and maintenance, etc.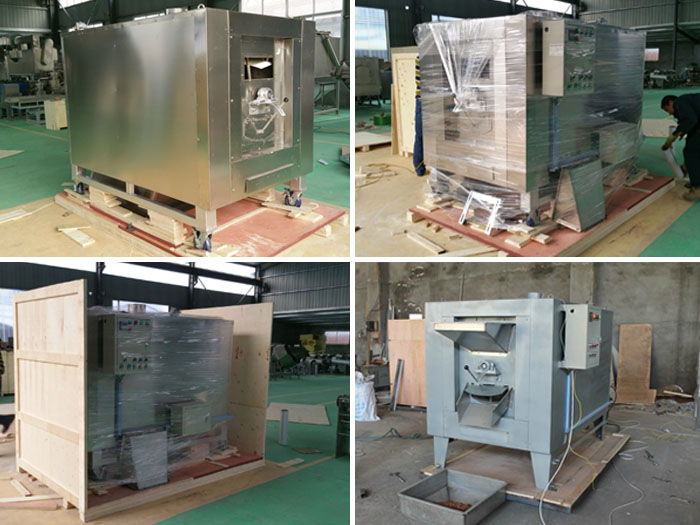 1. The characteristics of peanut roasting machine
The product processed by peanut roasting machine tastes pure and the baking quality totally meet the food hygiene standards and the international export standards. The peanut roaster machine has the features of energy conservation, faster temperature rising, less power consumption, stable performance, low running cost, long service life, easy operation and maintenance.
There are three kinds of peanut roasting machine according to the heating form: electric heating, coal heating and gas heating. According to the material of the machine, there are carbon steel and stainless steel peanut roasting machine. The drum and blade of carbon steel peanut roasting machine are stainless steel punch plate, and the rest are made of carbon steel. While the drum, blades, outboard, feed hopper  and outlet hopper of stainless steel peanut roasting machine are all made of high quality stainless steel. We can also design the peanut roaster for different purposes and forms according to your needs.
2. Purpose and working principle
The peanut roasting machine is mainly used for moisture reducing, drying and baking in the food processing industry of legumes, nuts and kernels, including peanuts, melon seeds, almonds, chestnuts, broad beans, etc. Taking hot air as drying medium, materials are roasted evenly and carried forward and turned by the propulsion system constantly in the drum, effectively ensuring the quality of baking.

The peanut roasting machine has automatic temperature control and timing device. The temperature can be adjusted freely according to the required temperature of the material, thus it is quite convenient for using.

----------------------------------------------------------------------------------------------------------
Belt type sunflower seeds roasting machine
Single chain plate drying machine
Chain Plate Food Dryer Machine
Belt type food drying machine, pepper drying machine
Characteristics of microwave roasting machine