Automatic peanut roaster machine promotes the baking quality of cacao beans
In recent years, due to the upward growth and good market situation of chocolate consumption market, chocolate is converted from luxury to daily consumer goods in China. Until today, chocolate has become the carrier of the taste and culture under the circumstance that leisure consumption has increasingly  become the mainstream.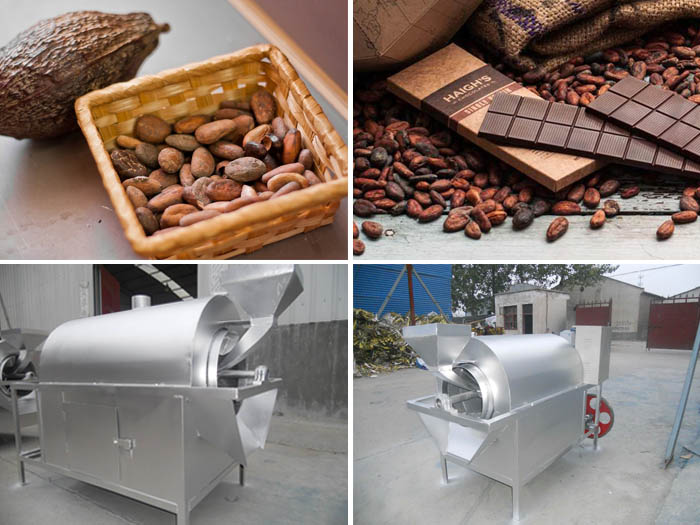 Under the current situation of sustainable growth of leisure food consumption market, the development prospect of chocolate market is favored. China's chocolate market is expected to grow by nearly 20 percent a year over the next 10 years as China's economy and consumption level rise. China is now the world's second-largest confectionery chocolate market after the United States.

Making chocolate is an important process comparable to that of the world's greatest chef. This production process takes a lot of time and great care. For example, it takes two to four days, or more, to make a chocolate bar for individual consumption.

The production methods of the factory are different, but there is a general process pattern applicable everywhere. It is this model that sets the chocolate industry apart from other industries. In order to get chocolate aromas, cocoa beans are placed in automatic peanut roaster machine and the baking time will last for 30 minutes or 2 hours with the temperature over 250°. Baking time and temperature are determined by the varieties and desired result of cocoa bean. Cocoa beans turn continuously in the automatic peanut roaster machine into beautiful dark brown color with unique aroma of chocolate.
Peanut roasting machine can not only replace manual baking of cacao beans, but also has accurate temperature and time control. Besides, the automatic peanut roaster machine has no combustion exhaust or smoke during processing, thus creating a clean and hygienic production space. The special energy saving design of the automatic peanut roaster machine reduces the energy consumption in the process of production and processing.
KMEC is a professional manufacturer specialized in the research, development and production of peanut roasting machine, peanut shelling machine, peanut butter production equipment and chain plate drying equipment, welcome to buy our products.

----------------------------------------------------------------------------------------------------------
Belt type sunflower seeds roasting machine
Single chain plate drying machine
Chain Plate Food Dryer Machine
Belt type food drying machine, pepper drying machine
Characteristics of microwave roasting machine