What are the advantages of chain plate drying machine?
Chain plate drying machine is the continuous drying equipment for mass production of sheet, strip, granular and part of paste materials with good permeability, especially the materials with high moisture content and heat sensitivity, such as dehydrated vegetables, fruit, Chinese herbal pieces, ect. It has the advantages of high drying rate, high evaporation intensity and good quality of products, etc.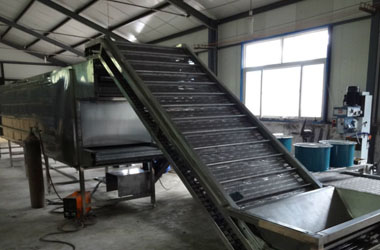 Drying equipment characteristics:
1, Mass production for one-time drying, continuous drying, much less manual work.
2, The air flow, heating temperature, standing time of raw material and feeding speed can be adjusted in order to get the best drying effect.
3, Flexible configuration, mesh belt washing system and material cooling system can be used.
4, Cyclic utilization of part of the air, high energy saving.
5, Special air distributing device to make the hot air distribution more uniform, ensure the consistency of product quality.
6, Steam, heat conduction oil, electricity or coal (oil) hot blast stove can be used as the energy sources.
KMEC is a professional manufacturer specialized in the research, development and production of peanut shelling machine, peanut butter production equipment and chain plate drying equipment, welcome to buy our products.

----------------------------------------------------------------------------------------------------------
Belt type sunflower seeds roasting machine
Single chain plate drying machine
Chain Plate Food Dryer Machine
Belt type food drying machine, pepper drying machine
Characteristics of microwave roasting machine